CCA SPOTLIGHT
Here we will be featuring some of our exceptional Ontario CCAs to show what sorts of things they get up to on the job, and what the CCA designation means to them.
Henry Prinzen – CCA-ON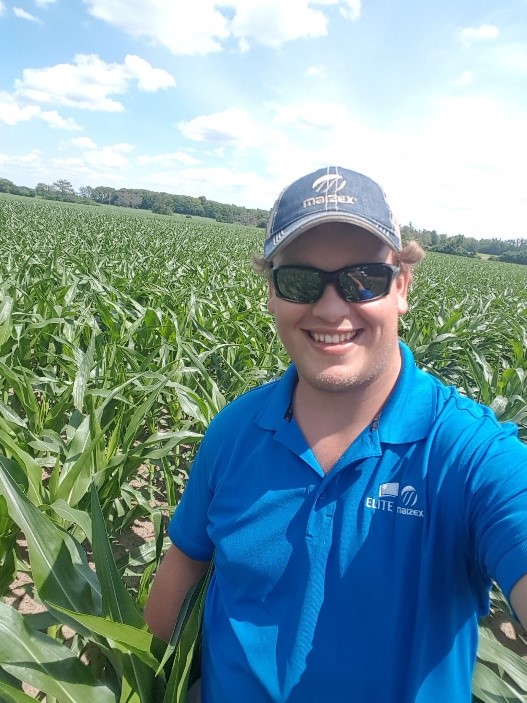 Meet Henry Prinzen, CCA-ON. Based out of Waterford, Ontario; Prinzen is a Territory Manager for Maizex Seeds Inc., covering the sands of Norfolk, the heavy clays of Niagara and Haldimand counties, and everything in between. He provides ample support and recommendations to growers in his area. Hybrid and variety positioning recommendations, planting condition evaluations (especially on the clay), tillage versus no till recommendations, and crop protection timing and feasibility discussions are some of the things he does on a regular basis. Henry's specialties are working with growers on heavy clay soils, variety and hybrid characterization and selection, as well as managing high yield environments.
Henry attained his CCA-ON designation in September 2018, not long after graduating from the University of Guelph. He sees the credibility of the CCA and acknowledges education and continued education, "giving you a good reason to keep learning". It provides access to industry happenings and networking opportunities with fellow CCAs. To keep up to date, Henry attends various events such as the CCA conference, Southwest Agricultural Conference (SWAC), Soil and Crop meetings, winter agronomy meetings and most recently completed Peter Sikkema and Darren Robinson's weed science course.
As the world of farming knows, every year has its own set of challenges, especially when you are dealing with extreme soil types. Henry often sees crusting in the clays of Haldimand and Niagara and drought in Brant and Norfolk counties, resulting in replanting assessments and overall stand health evaluations. He says, "the main challenge is teaching patience and calmness through the planting and harvest seasons on the clay so we can maintain yield potential and reduce compaction."
So far, throughout his career, Henry has experienced some great successes. For the past 3 years, he has been working with a father-son partnership as they started farming on their own. Henry notes "My CCA designation gave them confidence that I could help them through the learning curve and aided them in trying to find the "right" piece of tillage equipment on heavy clay." Another situation was similar only was with assisting the grower to diagnose a problem. Henry explains the scenario; "The grower had some yellowish white interveinal striping and reddish-purple lower leaves on the sandy knolls of his 6lf corn. We spot sprayed the plants with some Magnesium (Mg) micro solution and came back to it in a week. The plants had turned around. This then confirmed his Mg deficiency and the grower used liquid Mg solution while side dressing to bring it back to life." Henry finds great satisfaction being able to help growers succeed and helping find solutions. He also enjoys finding cool things like a 26-row round ear of corn!
If you are thinking of becoming a CCA, Henry says "Do it. CCA has a lot a value in the agriculture community. There is always more to learn every day from everyone you work with. Keep an open mind!"